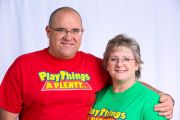 Playthings Aplenty toy store offers high-quality, affordable toys that nurture the imagination and encourage children to think, create and dream! From fidget toys, to classic retro toys, we work hard to provide an assortment of educational and fun items. Order online, choose store pickup, and you'll be able to pick up curbsite Monday thru Friday 11-5pm. You'll find the perfect gift, at the right price, wrapped down to the gift tag so all you need to do is show up with the most popular gift at the party! If the gift recipient is out of town, choose shipping, we'll wrap, pack and ship it for you so that you can relax.
We are a family owned and operated company in Spartanburg, SC.
We have adopted pop up stores and online shopping business model to reflect today's buyers.
The website will be updated soon to make is simple to shop for gifts by ages and interests, so check back.
Our mission is to provide unique products, competetive prices and the ultimate customer service experience whether you are in our retail store or shopping on our website.
See our facebook page for events, flash sales, and coupon codes. We will start doing facebook lives soon!
---