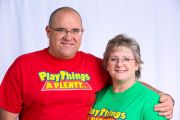 Playthings Aplenty toy store offers high-quality, affordable toys that nurture the imagination and encourage children to think, create and dream! Walk through our store and you'll see toys, books, games, puzzles, crafts, dress-up, cars, dolls, science, baby toys and much more. From fidget toys, to classic retro toys, we work hard to provide an assortment of educational and fun items. On your way to a birthday party? Stop by and you'll walk out with the perfect gift, at the right price, wrapped down to the gift tag so all you need to do is show up with the most popular gift at the party! If the gift recipient is out of town, buy online, we'll wrap, pack and ship it for you so that you can relax.
We are a family owned and operated company in Spartanburg, SC, conveniently located at the corner of East Main St. and Webber Rd. We have ample parking and no long lines, saving you time! Our mission is to provide unique products, competetive prices and the ultimate customer service experience whether you are in our retail store or shopping on our website.
We've just launched our new website, and we will continually be adding new products. Please come back often to see what's new! Call our store if you are local and want to save money on an online purchase if you pick up in store.
See our facebook page for events, sales and giveaways.
---
Interested in working for us? Download a PDF application and drop it off at the store. Our needs are always changing, and we sometimes need super friendly, part time, or seasonal help. If you have website maintenance, seo, email marketing or other technical skills, even better!